Who we are
The Wildlife Trust of South and West Wales is one of 46 Wildlife Trusts across the UK. We cover an area of 9,787 km² in South and West Wales - including around half of Wales' coastline! We own and manage 110 nature reserves covering 2,007 hectares, 50 of which are designated SSSIs, 10 are National Nature Reserves and 4 are islands, including Skomer and Skokholm island. We have around 800 volunteers and over 10,000 members!
What we do
Our mission is to rebuild biodiversity and engage people with their environment, by:
Publicly standing up for wildlife and the environment

Creating and enhancing wildlife havens within and outside nature reserves, particularly by creating Living Landscapes and Living Seas. 

We aim to influence wildlife conservation policy in order to protect wildlife outside the safe haven of nature reserves and work with partners and developers to assess the impacts of major projects and offer advice on appropriate mitigation. We also advise other landowners about managing land for wildlife – covering around 5,000 hectares each year. 
Acquiring nature reserves

Our sites cover a wide range of habitats and include 50 Sites of Special Scientific Interest of which 23 are of international importance and 10 are National Nature Reserves.  Nature reserves have always been a core part of our work. Some are large, some are small but each one is special.

Protecting key species and habitats

Our area combines dramatic upland and coastal landscapes with gentler rolling hills, shaded woodlands, sunny meadows and lush wetlands and we are lucky to have many exciting species.

The habitats we manage include Wales's second largest ancient woodland, heathland, fen, lakes, hay meadows, coast and islands.

Species include Manx Shearwater, Goshawk, Cetti's Warbler, Lapwing, Puffin, Razorbill, Otter, Water Vole, Dormouse, Marsh Fritillary, Brown Hairstreak, Ley's Whitebeam ("Rarest tree in UK"), Autumn Gentian, Mossy Saxifrage, Northern Marsh Orchid, Globeflower, Small-white Orchid, Wood Bitter Vetch, Carex montana, Whorled Caraway and many nationally important populations such as Lesser Butterfly Orchid, Goldilocks Aster, Pale Dog Violet and Silky Wave moth. We have half the world's known sites for Willow Blister fungus, one of the world's top 100 most endangered species.
Connecting people with nature

We are passionate about wildlife and want to pass that passion on to others. We believe that to value and take action for nature, first people need to care about nature, and that lies at the heart of our work with people.

We also want everyone to have the same access to nature and have the opportunity to benefit their wellbeing by spending time outdoors. We are committed to equality, diversity and inclusion are working to ensure that everybody has the same opportunity to participate in nature's recovery. We;

Empower communities to take action for wildlife, giving them the tools, confidence, resources and voice to campaign for nature through our #NextdoorNature, #MyWildCardiff, #StandForNatureWales and #WILDFundraiser projects.
Work with education providers and conservation professionals to help build confidence in outdoor learning and improve wellbeing.
Provide natural history skills and training to volunteers, young people and adults.
Lead events in person and online - from walks and talks to nature reserve shows such as Skomer LIVE!
Help families enjoy nature, encouraging a healthy attitude to risk and dirt through our #WildlifeWatch programme.
Make our activities, Nature Reserves and visitor centres available and welcoming to everyone.
Help reverse the trend of younger generations becoming increasingly disconnected from wildlife.
Demonstrate the importance of our natural environment to our quality of life.
Our history

The Wildlife Trust of South and West Wales as it stands has only been in existence since April 2002 formed by merger of Wildlife Trust West Wales and Glamorgan Wildlife Trust but it has a long history of protecting wildlife which started before the Second World War in Pembrokeshire.

The history of the name changes started off in west Wales as Pembrokeshire Bird Society in 1938. In 1945, with Ronald Lockley as Chairman, the Society changed its name to The West Wales Field Society (WWFS). 1961 led to the adoption of Memorandum & Articles of Association of a Naturalists' Trust and with this WWFS became The West Wales Naturalists' Trust (WWNT) in 1962. It later became known as West Wales Trust for Nature Conservation and changed to Dyfed Wildlife Trust in 1988 and in 1997 it eventually became known as Wildlife Trust, West Wales.

Glamorgan County Naturalists' Trust (GCNT) was founded in January 1961. In 1984, following the county of Glamorgan being split into West, Mid and South, the GCNT changed its name to the Glamorgan Trust for Nature Conservation (GTCN) and then in 1987 to The Glamorgan Wildlife Trust.

Both Wildlife Trust West Wales and Glamorgan Wildlife Trust retained these names until the merger in 2002.
We are passionate about wildlife and want to pass that passion on to others. We believe that to value and take action for nature, first people need to care about nature, and that lies at the heart of our work with people.

CEO, the Wildlife Trust of South and West Wales
What we believe
We all need natural green spaces: we need a connection with nature, and we know that time spent with nature significantly improves our quality of life. 
Nature is integral to our lives. People are part of nature and all life on earth is mutually interdependent. Everything we value comes from nature and everything we do impacts upon wildlife. 
Everyone should have the opportunity to experience the joy of wildlife in their daily lives.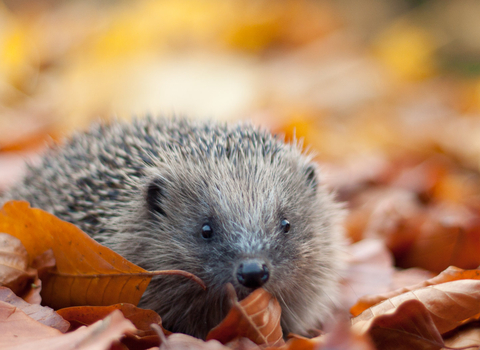 Help bring nature back
We want at least 30% of land and sea protected and connected for nature's recovery by 2030. Can you help us get there? 
Read more